Amsterdam: Seductively Intoxicating
by Charlotte Everett, Exclusive to VegDining.com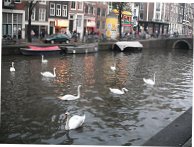 Amsterdam is one of Europe's most-visited destinations: a mix of beauty, history, sex and sin. Whilst some may be intimidated by its liberal attitude and modern approach, it's a city that attracts visitors of all ages and backgrounds. A melting pot of controversy and culture that is seductively intoxicating, whatever you're looking for.
---
To access the rest of this article, please login with your VegDining member ID.
If you're not yet a VegDining member, please consider joining for only $5 US for a full year, or automatically becoming a member by purchasing a VegDining Card. By doing so, you'll be helping us with our efforts to promote vegetarianism around the world.


---
Travel also to these VegDining destinations ...
Africa:
Adventures in Uganda

Asia:
Andaman Islands (India)
Bali & East Java, Indonesia
Boracay: A Surprise Vegetarian Destination
Central Vietnam: Danang, Hoi An and Hue
Chiang Mai: J is for Vegetarian
Dubai: City of Merchants
Holy Haridwar & Righteous Rishikesh
Kyoto: New Treats in an Ancient City
Laos: Sabai dee!
Luang Prabang: Vegetarian Gem of the Mekong
Palitana, Gujarat: Abode of the Gods
Phuket, Thailand
The Vegetarian Soul of Seoul
Singapore: Vegetarianism in Southeast Asia
Tamil Nadu: Enchanting for Vegetarians
Udaipur: Venice of the East

Australia/New Zealand:
Veggie Sydney
Tasmania: Australia's Apple Isle

Europe:
Amsterdam: Seductively Intoxicating
Barcelona: Europe's Veg Heaven
Berlin: Divided Past, United Present
Vintage France: Bordeaux
Dijon: Doorway To The Arts
Florence: Paradise Found
Land of Contradictions: Veggie Traveling in Iceland
London: Finding a Slice of Vegan London
Lyon: La Vie Végétarienne à Lyon
1847 to 2011 ... Magnificent Manchester
Munich: Eat, Drink and Be Veggie
A Weekend in Paris
Sardinia: The Land of Longevity

Central America:
Costa Rica & Nicaragua
Touring St. Thomas

North America:
Veg*n Out in Berkeley
Goin' Vegan in Carmel-by-the-Sea
Kanab, Utah: Vegetarian Surprises in the Desert
Kauai: Veg-Friendly Paradise
Laurentians: New Heights for Vegetarians!
Los Angeles: A Feast of Global Choices
Montreal: VegMontreal
New York City, The Big Apple
Ottawa: Ottawa's Green Scene
Goin' Vegan in Philadelphia
Quebec City: Storming the Ramparts
Quebec's Eastern Townships
San Diego: Vegetarianism on the West Coast
Rock out in St. John's
San Francisco: Sparkling Jewel in the California Crown
San Jose, CA: Vegetarian Valley of Heart's Delight
Old San Juan, Puerto Rico
Seeing Seattle
Feasting on the Fjord at Tadoussac, Quebec
Toronto: A Great City for Vegetarians
Yucatan Peninsula (Mexico): Caribbean and Colonial Charm>


South America:
Rio de Janeiro: Carnival Capital