1847 to 2011 ... Magnificent Manchester
by Charlotte Everett, Exclusive to VegDining.com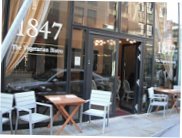 When people think of Manchester, they usually think of Manchester United, arguably the most famous football club in the world. Or perhaps they think of British television's most famous address: Coronation Street. The truth is that Manchester has a lot more to offer than soccer and soaps. From shopping, to Stag Do's - Manchester is one of the fastest growing cities in the United Kingdom; a mecca of leisure, music, culture and cuisine.
In fact, there's something else Manchester is famous for: vegetarianism. It was in 1847 that the Vegetarian Society was first founded, in Manchester, and to this day, the city boasts a strong and active vegetarian and vegan community. There are a number of vegetarian and vegan groups to join, or even meet up with if you are a visitor to the area. Events and recommendations are well-publicised, and the city even has its own vegan society.
It makes sense therefore that the city caters excellently for vegetarians and vegans alike, with a number of restaurants, including Simon Rimmer's famous restaurant, Greens. But my restaurant of choice would have to be 1847, an exquisite vegetarian bistro, which is quickly gaining a reputation as the number one fine-dining vegetarian restaurant in Manchester. I've written a mini-review for 1847, detailing just how incredible this place is, so be sure to check it out!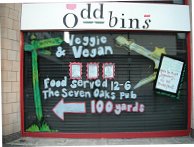 If fine dining is not your scene however, then Manchester still caters for veggie visitors looking for a more down-to-earth dining experience. And no doubt you will be wanting to visit at least one traditional English pub during your stay. Check out The Seven Oaks, a local pub which proudly serves home-cooked vegetarian and vegan food.
With excellent transport links, it's very easy to get around Manchester. Make your way to Exchange Square and hop on the Manchester Wheel, day or night, for the best views of the city. Or if shopping is more your scene, head to the massive Arndale centre, for one of the largest retail offerings in England.
With the weekend, come the Hens and Stags - so if you're out in Manchester on a Saturday night, you will be sharing the streets and the clubs with a large population of pre-wedding revellers. The city has a reputation for being one of the best places for Bachelor and Bachelorette parties, and in true English tradition, these celebrations usually last the whole weekend. The diverse array of colourful costumes and spirited laughter only add to the vibrancy of the city centre. Choose from one of the many pubs or clubs, or if you prefer, find a party out on the streets, where crowds tend to gather, dance and generally enjoy themselves in the company of street musicians and performers.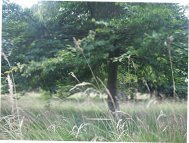 The city is anything but congested, however if a quieter pace of life is more appealing, head out into Greater Manchester to explore some greener space. Travel by tram to Eccles, and from there it's about a 15 minute walk to Monton, where you will find a proper English meadow, along with all of the peace and privacy you're looking for. At most, you may be disturbed by the sound of cows in a neighbouring paddock, or the occasional dog-walker. Languishing in the sunshine, we enjoyed a home-packed vegetarian picnic, complemented by fresh marinated olives purchased from a local deli.
Given its cultural vibrancy, fast economic development, and modern approach, it's surprising that Manchester has never been one of the top destinations for tourists visiting the British Isles. However, as it continues to reinvent itself, and attract some of the best culinary talent that the United Kingdom has to offer, this looks set to change in the very near future. Make sure you make some time for Manchester next time you visit England.
Charlotte Everett is VegDining's City Ambassador for London. A "mainstream vegan", she's committed to showing the non-vegetarian world that vegan cuisine is not intimidating or bland. Charlotte's also a freelance tour guide, conducting walking tours throughout London.
Photos courtesy of Charlotte Everett.
---
Travel also to these VegDining destinations ...
Africa:
Adventures in Uganda

Asia:
Andaman Islands (India)
Bali & East Java, Indonesia
Boracay: A Surprise Vegetarian Destination
Central Vietnam: Danang, Hoi An and Hue
Chiang Mai: J is for Vegetarian
Dubai: City of Merchants
Holy Haridwar & Righteous Rishikesh
Kyoto: New Treats in an Ancient City
Laos: Sabai dee!
Luang Prabang: Vegetarian Gem of the Mekong
Palitana, Gujarat: Abode of the Gods
Phuket, Thailand
The Vegetarian Soul of Seoul
Singapore: Vegetarianism in Southeast Asia
Tamil Nadu: Enchanting for Vegetarians
Udaipur: Venice of the East

Australia/New Zealand:
Veggie Sydney
Tasmania: Australia's Apple Isle

Europe:
Amsterdam: Seductively Intoxicating
Barcelona: Europe's Veg Heaven
Berlin: Divided Past, United Present
Vintage France: Bordeaux
Dijon: Doorway To The Arts
Florence: Paradise Found
Land of Contradictions: Veggie Traveling in Iceland
London: Finding a Slice of Vegan London
Lyon: La Vie Végétarienne à Lyon
1847 to 2011 ... Magnificent Manchester
Munich: Eat, Drink and Be Veggie
A Weekend in Paris
Sardinia: The Land of Longevity

Central America:
Costa Rica & Nicaragua
Touring St. Thomas

North America:
Veg*n Out in Berkeley
Goin' Vegan in Carmel-by-the-Sea
Kanab, Utah: Vegetarian Surprises in the Desert
Kauai: Veg-Friendly Paradise
Laurentians: New Heights for Vegetarians!
Los Angeles: A Feast of Global Choices
Montreal: VegMontreal
New York City, The Big Apple
Ottawa: Ottawa's Green Scene
Goin' Vegan in Philadelphia
Quebec City: Storming the Ramparts
Quebec's Eastern Townships
San Diego: Vegetarianism on the West Coast
Rock out in St. John's
San Francisco: Sparkling Jewel in the California Crown
San Jose, CA: Vegetarian Valley of Heart's Delight
Old San Juan, Puerto Rico
Seeing Seattle
Feasting on the Fjord at Tadoussac, Quebec
Toronto: A Great City for Vegetarians
Yucatan Peninsula (Mexico): Caribbean and Colonial Charm>


South America:
Rio de Janeiro: Carnival Capital