VegDining Business Profile:
Vegan Pudding & Co.
(Vancouver, Canada)
by Heidi P. Cruz, VegDining.com

Rich like whole milk,
Smooth like raw silk,
Looks like golden yolk,
... but VEGAN! (Vegan Pudding & Co. motto)

For pudding lovers who happen to be vegan, this is a dream come true: heavenly pudding without the guilt! Since 2011, Sora and Hiro Takayama, the couple behind Vegan Pudding & Co. has lovingly searched for ways to bring this delight to friends, and the company's history began from there.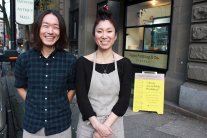 Sora and his wife, Hiro, travelled around the world for four-something years before finally choosing to settle in vegan-friendly Vancouver in British Columbia, Canada. Sora, who is a poet, would hold poetry reading events and Hiro would prepare vegan treats for attendees. At one of these events, Hiro prepared a vegan pudding on Sora's request. The pudding was a huge success with their guests, and everyone who tasted it began asking for more.
Realizing that there was a demand for their pudding, Sora and Hiro started a catering business. As the catering business grew, they decided in 2015 to open the small take-away window selling various flavours of vegan pudding exclusively.
The take-away window at 422 Richards Street in downtown Vancouver has proven to be very popular and so the Vegan Pudding & Co. was born. Customers would come from all over the city and even across the border from the U.S. As pudding is a staple dessert in Japan, they have also had visits from Japanese customers.
What's the secret? Sora tells VegDining, "We aim to create the best pudding in the world, so we choose organic ingredients. We believe organic food and organic practices help our health and the environment. We want to give our customers the peace of mind that comes with an organic certification, so we are organic certified. Our cups and cutlery are BPA-free and compostable." Hiro has also created soy-free vegan pudding for those who can't have soy.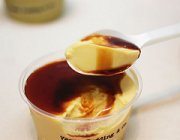 Hiro makes the pudding by hand, from locally sourced ingredients, where possible: kabocha squash, coconut milk, coconut sugar and maple syrup, with no preservatives. Their pudding comes in vanilla, chocolate, coffee, strawberry, roasted black sesame, earl grey tea, matcha green tea and hoji-cha (roasted green tea) varieties. Customers may have them with or without the sauce, which comes in caramel, roasted black sesame, double chocolate, and lemon caramel. They now have vegan crème brulee, too, made with caramelized maple sugar.
The couple and their vegan pudding have become very popular these days, and were featured on Japanese television, in the Vancouver Keizai News right after their January 2015 opening, in Vancouver's Vancity Buzz, and in Global Work's "CM" series about interesting Japanese people living all over the world.
Vegan Pudding & Co. products are now available at grocery stores and restaurants all over Vancouver, including Whole Foods, with plans soon for Victoria and Tokyo!
Learn more about the Vegan Pudding & Co. from their Full Listing on our site.
Photos courtesy of Vegan Pudding & Co.
---
Other VegDining Restaurant Profiles ...
Vegan Pudding (Vancouver, BC, Canada)
WaterCourse (Denver, CO, USA)
Karma Waters (Hoi An, Vietnam)
Padmanadi Vegetarian Restaurant (Jakarta and Edmonton, Canada)
The Vegetable Garden (Rockville, MD, USA)
Vegetarian House (San Jose, CA, USA)
Restaurant Bambu Vegetariano (Valparaiso, Chile)
Candle Cafe/Candle 79 (New York, USA)
Montali Country House (Umbria, Italy)
Sage's Cafe (Salt Lake City, USA)
Prana Vegetarian Restaurant (Boracay, Philippines)
Revive Vegetarian Cafe (Auckland, New Zealand)