VegDining Restaurant Profile:
Revive Vegetarian Cafe
(Auckland, New Zealand)
by Heidi P. Cruz, VegDining.com

There's a treasure of a restaurant serving Auckland's (New Zealand) health food enthusiasts for almost two years now. Revive Vegetarian Cafe, at 16 Fort St., Auckland Central (at the "bottom of Queen St."), offers healthy, vegetarian food made fresh, from a menu which changes DAILY.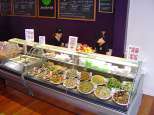 Jeremy Dixon, who co-owns the restaurant with his wife Verity, is particularly proud of the spontaniety with which they plan meals for their customers. "Our kitchen staff is always excited as each day they get to create two new dishes from scratch, rather than mass producing the same old stuff," he tells VegDining.
The restaurant prides itself in being healthy, totally eschewing processed foods such as sugar and white flour, and unhealthy cooking processes such as deep frying. The restaurant caters to "vibrant, healthy people", Jeremy says, but not exclusively to vegetarians. Obviously, their menu appeals to both vegetarians and non-vegetarians, as he claims that they "get many, many compliments" from their customers, 90% of whom are, suprprisingly, non-vegetarians.
Jeremy and Verity opened Revive in February 2005 after two years of unsuccessfully trying to find restaurants where they could eat a vegetarian meal that didn't leave them feeling hungry. The solution had been to open a restaurant that "provided fresh, nutritious food and beverages".
Three great entrees you must try when you visit Revive is their Spanish omelette, which they have on their menu every day, their chickpea korma, and the Spinakopita (Spinach and Feta Filo), a personal favorite of the Dixons.
Revive also offers a wide range of breakfasts, fresh salads, vegetarian meals, smoothies, juices, and more. In keeping with the restaurant's philosophy of promoting healthy eating, they do not serve caffeinated tea or coffee.
VegDining features an original recipe that Jeremy and Verity personally picked for you to try at home: "Tuscan Potato Bake". This is a vegan entree, available only at Revive Vegetarian Cafe.
To learn more about Revive, click here to visit their Full Listing on our site.
Photo courtesy of Revive Vegetarian Cafe.
---
Other VegDining Restaurant Profiles ...
Vegan Pudding (Vancouver, BC, Canada)
WaterCourse (Denver, CO, USA)
Karma Waters (Hoi An, Vietnam)
Padmanadi Vegetarian Restaurant (Jakarta and Edmonton, Canada)
The Vegetable Garden (Rockville, MD, USA)
Vegetarian House (San Jose, CA, USA)
Restaurant Bambu Vegetariano (Valparaiso, Chile)
Candle Cafe/Candle 79 (New York, USA)
Montali Country House (Umbria, Italy)
Sage's Cafe (Salt Lake City, USA)
Prana Vegetarian Restaurant (Boracay, Philippines)
Revive Vegetarian Cafe (Auckland, New Zealand)