VegDining Restaurant Profile:
Candle Café and Candle 79
(New York, USA)
by Heidi P. Cruz, VegDining.com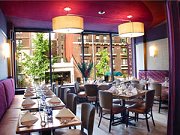 Who ever said Friday the 13th is an unlucky day hasn't had the good fortune of meeting the owners of Candle Café !
Thanks to their modest lottery win on that day in August 1993, Bart Potenza and Joy Pierson soon afterwards launched their dream project. Ever since, Candle Café has provided delicious, healthy, organic vegan food to a huge following in New York City. "It's a venture that was meant to be" recalls Bart.
Bart and Joy's training goes back to a small restaurant named Healthy Candle, where they worked for ten years before starting their café. They both have a nutrition background, so are aware of the importance of proper nourishment to round out a healthy lifestyle. Building on their success ten years after opening Candle Café, they opened Candle 79, an upscale restaurant with a fine dining atmosphere.
"We knew we could fill a need," says Joy. "Candle 79 made it possible for people who would not normally sample vegan cuisine to feel comfortable, so that families, friends, business associates, and romantic couples can dine together in a magnificent setting with elegantly presented cuisine."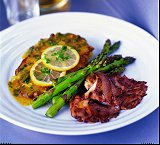 The most popular entrées at both restaurants are the seitan specials. Candle's menu features Porcini Crusted Seitan, a gorgeous dish served with herb mashed potatoes and sautéed greens and oyster mushrooms. For those who have a wheat sensitivity, the owners suggest their Paradise Casserole, "a pure vegan comfort food".
A first-time visitor should try the Seitan Piccata. It's on Candle 79's daily menu, and comes with a fantastic lemon, white wine and caper sauce. Another rendition of the dish is available on the specials menu at Candle Café. Seitan Chimichurri's, both the Candle Café's and Candle 79's signature item, and a must have at many special events, is a dish known to have converted many people to this style of eating. A wonderful wheat-free alternative is the ginger miso stir-fry with tofu or tempeh.
And after your meal, dessert is a must! The most popular choice is chocolate mousse pie a la mode with mocha swirl ice cream.
So what's been the secret to Candle Café and Candle 79's success ? The owners agree it's their unwavering commitment to creating and serving the best in organic vegan cuisine. "We firmly believe we're helping to create a better, more peaceful, sustainable world," explains Joy. "We share this commitment with many amazing and gifted people who support our purpose." These include the fabulous chefs, managers, staff, farmers and purveyors of all the ingredients that bring fresh food from the farm to the table. Adds Bart, "our daily attitude is gratitude. We believe our guests feel that when they eat with us."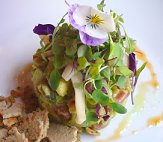 Candle Café and Candle 79 have been serving organic food from day one, and it has somehow become fashionable of late. "Organic is a big buzz word right now," Bart shares. The sister restaurants serve the same high quality organic vegan cuisine, and are "dedicated to the mission that fuels our passion for feeding people great food that benefits the body and mother earth and saves animals at the same time."
Surprisingly, most of the customers who keep coming back to these vegan restaurants are not even vegetarian, but who have become more health conscious. Bart recounts that non-vegetarians are amazed at how they love vegan food, which they probably never expected to be delicious. Conversions to eating vegetarian are not uncommon. The highly successful restaurants serve some 18,000 meals a month to influential movers and shakers. Loyal patrons include Alicia Silverstone, Woody Harrelson, Brooke Shields, Michael J. Fox, and many other Hollywood stars.
And where do the owners expect Candle Café and Candle 79 to be in the next five years ? They've already started selling their signature items like chimicurris, black bean burgers, and chipotle grilled seitan in addition to a variety of pre-packed desserts through Whole Foods Markets. But Bart looks further ahead: "We're inspired with the idea of spreading our commitment by branding our incredible food and restaurant concept internationally. The Candle 79 Cookbook and cooking classes are in the works and dreams of vegan bakeries are in our thoughts !"
Candle Café is located at 1307 Third Avenue, New York, NY, USA, and Candle 79 is on the Upper East Side at 154 East 79th St., New York, NY, USA.
VegDining proudly shares Candle Café and Candle 79's mission. The restaurants offer a 10% discount to VegDining Card holders. Learn more about Candle Café and Candle 79 from their Full Listings on our site.
You might also like to try this mouth-watering recipe from Candle 79's kitchen.
Photos courtesy of Candle Café.
---
Other VegDining Restaurant Profiles ...
Vegan Pudding (Vancouver, BC, Canada)
WaterCourse (Denver, CO, USA)
Karma Waters (Hoi An, Vietnam)
Padmanadi Vegetarian Restaurant (Jakarta and Edmonton, Canada)
The Vegetable Garden (Rockville, MD, USA)
Vegetarian House (San Jose, CA, USA)
Restaurant Bambu Vegetariano (Valparaiso, Chile)
Candle Cafe/Candle 79 (New York, USA)
Montali Country House (Umbria, Italy)
Sage's Cafe (Salt Lake City, USA)
Prana Vegetarian Restaurant (Boracay, Philippines)
Revive Vegetarian Cafe (Auckland, New Zealand)