VegDining Business Profile:
The Grinning Goat, Calgary AB Canada
by Dennis Bayomi, VegDining.com

We're very pleased to be chatting with Crystal Brown, owner of The Grinning Goat in Calgary, Canada. The Grinning Goat is a vegan oasis in Calgary, one of Canada's first all-vegan boutiques.
_______________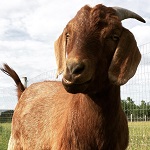 VegDining: Thank you Crystal for taking some time to chat with us. We have lots to talk about but let's start with your business' name - we're most intrigued, why "The Grinning Goat"?

The Grinning Goat: The Grinning Goat is named after Arwyn who was the first goat to reside at The Alice Sanctuary. Our store is meant to be a friendly place where people feel welcome so we wanted a name that would make people smile. After having been given the honour of naming Arwyn when he arrived at The Alice Sanctuary, the name The Grinning Goat is our homage to him as well as our own tribute to The Alice Sanctuary for the work they do. Whenever someone asks about the name, we are able to tell them the story and let people know about the sanctuary as well.



_______________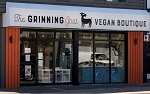 VegDining: So what made you open TGG?

The Grinning Goat: I became vegan about 7 years ago after learning about factory farming and how animals are used and abused in all sorts of industries. Shortly after becoming vegan, I realized there were no stores in my area where I could purchase vegan clothing and shoes in particular.

In 2015, I decided to take a sabbatical from my job in order to pursue some personal interests including volunteer work. It was during that time that I learned about The Alice Sanctuary and quickly started spending the majority of my time volunteering there. While volunteering at the sanctuary, I met other vegans and learned that they had the same challenges that I did when it came to the availability of vegan fashion options.

When my sabbatical was over, I decided to switch gears in my life and take on the challenge of creating a place in Calgary where people could physically shop for animal-free apparel and accessories. We opened in September 2017 and have had a great response.



_______________





VegDining: How would you describe your shop? What kinds of products do you offer at TGG?

The Grinning Goat: Our original intention was to be primarily a vegan shoe store, however we have since grown our selection to include footwear, outerwear, accessories, flair, bath and body products and home products.



_______________



VegDining: Your location on 17th Avenue has an interesting story. Can you share it with us?

The Grinning Goat: The building we are located in was built in the 1930s and originally was part of the first dairy company in Calgary called Model Milk. Across the street from us is the building where the dairy trucks would come to unload the milk for processing and the building we are located in was originally the truck repair and maintenance shop. Model Milk is no longer in operation, but we feel it's very symbolic and a sign of the times to be operating a vegan business where a dairy once was.



_______________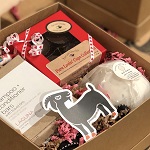 VegDining: Calgary historically hasn't been a city many of us would associate with veganism or animal welfare and compassion. Has this been a challenge for TGG or have positive changes been underway here?

The Grinning Goat: The vegan community in Calgary has grown exponentially in the last few years. It is truly an awesome thing to see. Calgary used to be known as Cowtown for its heavy reliance on the beef industry and of course the Calgary Stampede.

However times are changing and so are people's attitudes. People are now looking to make more ethical and environmentally-friendly choices when they make buying decisions and it shows in the growing number of vegan options available in our city. It seems like now everyone has at least one vegan friend or family member. The number of vegan restaurants has really grown and there are more vegan options (other than salad) at many of the restaurants in the city. We definitely have a ways to go to make improvements on that front, but the progress is encouraging.



_______________



VegDining: You've undoubtedly learned lots and hurdled numerous challenges in getting TGG established. Would you have any advice for would-be/budding vegan entrepreneurs?

The Grinning Goat: My advice is that if you have a passion and want to turn that into a business, go for it! You will definitely encounter many challenges, but as long as you have a core belief in the importance of what you are doing, you will find a way to overcome the obstacles. Also, ask for help! In my experience, the vegan community is incredibly helpful and supportive of its peers. We all want to see more business being created that have the same vegan values, so reach out to others when you need to.



_______________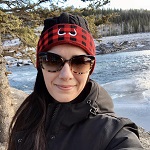 VegDining: Without revealing any business secrets, what do you foresee down the road for TGG?

The Grinning Goat: The amount of support we have received since opening our doors has been incredible and we are so grateful. In the short term, we will continue to focus on growing our business at our current location as well as our online presence. We do feel there needs to be much more access to vegan fashion in general across Canada and the world. We are inspired and optimistic about the ever increasing demand for ethical vegan fashion and plan to be part of that growth in the future!



_______________



VegDining salutes The Grinning Goat for the great work it's doing in Calgary! Learn more about The Grinning Goat from their Full Listing on our site.

Photos courtesy of The Grinning Goat.



---
Other VegDining Restaurant Profiles ...
Vegan Pudding (Vancouver, BC, Canada)
WaterCourse (Denver, CO, USA)
Karma Waters (Hoi An, Vietnam)
Padmanadi Vegetarian Restaurant (Jakarta and Edmonton, Canada)
The Vegetable Garden (Rockville, MD, USA)
Vegetarian House (San Jose, CA, USA)
Restaurant Bambu Vegetariano (Valparaiso, Chile)
Candle Cafe/Candle 79 (New York, USA)
Montali Country House (Umbria, Italy)
Sage's Cafe (Salt Lake City, USA)
Prana Vegetarian Restaurant (Boracay, Philippines)
Revive Vegetarian Cafe (Auckland, New Zealand)