VegDining Restaurant Profile:
Karma Waters Vegetarian Restaurant
(Hoi An, Vietnam)
by Heidi P. Cruz, VegDining.com
Perhaps one of the nicest surprises that a vegetarian gets is finding great vegetarian food in the most unexpected places. Karma Waters Vegan Restaurant, located in the town center of Hoi An, Quang Nam Province, Vietnam, is no exception. Visitors have paid their accolades to this six-year old restaurant that serves what might qualify as the healthiest cuisine in Vietnam.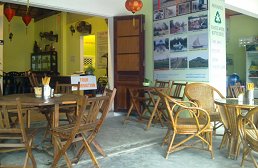 Hoi An earns its spot on the vegetarian map as the place where vegetarian cuisine - through the introduction of Buddhism - found its way to Vietnam. Most Vietnamese would consider themselves vegetarian for two to four days a month: on the first, 14th, 15th, and last day of the lunar cycle. On these days, Karma Waters is packed with locals dining on traditional Vietnamese cuisine. But even on other days, respect for vegetarians is so high that if you are vegetarian and dine with a meat-eating family in their home, your food will be served on a separate table.
Karma Waters was opened in 2005 by a couple who, being vegans, wanted a way to eat and live simply. Paul Tarrant and his wife Duyen Nguyen had been operating a boat and model-boat building business since 2004 and were looking for a place to settle in. They chose Hoi An because of its history, charm, rivers and the sea. The couple at the time had a sizable collection of boats and wanted to operate a boat rental business which now shares space with the restaurant.
Karma Waters is fully vegan, and uses no monosodium glutamate (MSG), sugar, or other unhealthy additives in its dishes. Very little salt, if at all, is used. This itself distinguishes the restaurant from typical Vietnamese restaurants, which put considerable amounts of these ingredients in their food. Paul and Duyen are very proud of their spotlessly clean open kitchen, from which their excellent cooks prepare reasonably priced vegan meals. This of course means that they have many patrons from the local community including one woman who sells fish for a living but prefers to be a vegan.
"Our vision is to serve vegan food - how much money the customer has in their pocket is not an issue! We are the only restaurant in our area that both tourists and locals can patronize because we offer a simple complete meal for as low as 10,000 Vietnamese dongs (50¢ US)," says Paul.
Paul and Duyen started out as complete novices in the restaurant business, and used their own family as a yardstick for what they'd serve in Karma Waters. All the entrées in the restaurant are what the couple and their two daughters would themselves eat. Today, Duyen is a creative cook and serves as the restaurant's inspiration in making vegan versions of well-known Vietnamese meat dishes.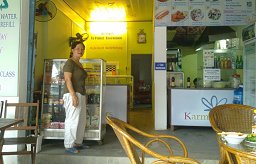 Despite their inexperience, the Tarrants are very hands-on business people, and always go the extra mile to make their customers' dining experiences pleasurable. There was once a German couple who dined at the restaurant with their 18-month old son. The baby, suffering from a chest infection, had no appetite, was on antibiotics and had not eaten in two days. Duyen prepared a traditional Vietnamese herbal remedy drink for the boy and, within 30 minutes, he was up and about, and enjoying his food.
An Australian family living in Singapore once visited Karma Waters, and over the course of three days ordered every entrée on the menu. Later, the mother told the Tarrants that her experience dining at Karma Waters convinced her to finally become vegan, even though her husband had been a vegan for 27 years, and both their teenage daughters were already vegans.
Karma Waters has added "Quick Healthy Vegan Food" to its menu, ideal for tourists on the go: veggie burgers, tofu dogs, turmeric rice with tofu, and other delightful dishes. These entrées can be served in the restaurant, and can also be ordered for take-out or delivery.
Recommended entrées? Try their raw vegetable spring rolls, which you can prepare with thin rice paper, raw salad, tofu, and mushrooms, hand-rolling and dipping it into a peanut-based sauce. Also recommended are the Singapore fried noodles, mildly spicy, with mixed seasonal vegetables. Or try one of the Tarrants' personal favorites, seaweed noodles in soup, which is popular among their customers and very nutritious (some believe the natural goodness of seaweeds removes harmful sugars from the body).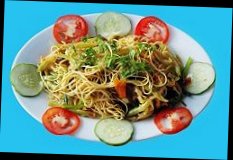 The couple claims their secret in getting the restaurant to where it is now is their insistence on living the principles that make their vegan family thrive: good quality, healthy, raw food, freshly prepared as soon as the customer orders it; getting and giving value for your money; and living a simple lifestyle. Karma Waters is a no-smoking and no-alcohol restaurant, in keeping with these principles.
"We take our ideas one step further because we provide vegan Responsible Tourism and we provide vegan meals. There's not much point snorkeling among the fish if you are going to eat them. What fish will there be left for the next snorkeler to see?" Paul adds.
The restaurant - and the other businesses that Paul and Duyen own - work with the local community, and rely on word-of-mouth rather than paying commissions (which is almost a staple for a business to survive in Vietnam). Duyen's degree in information technology helps the couple promote the restaurant and their other businesses using the Internet, but Paul still says that they are a "brick and mortar" business, with the Internet serving only as a tool for direct contact with their customers.
So what should the world expect of Karma Waters within the next five years? In the owners' words: "We think the greatest difficulty in any country is finding the way within the local community and we think we have found our way. Right now, we work a lot with - and encourage - the community's participation. We want to be even more 'open' to our employees, customers and the community at large in promoting more sustainable lifestyles based on the principles of vegan living. Being in Vietnam is a very direct experience of feelings, senses, karma and life itself - much more than just seeing and doing - and anyone who can be 'open' will participate, enjoy and learn a lot!"
VegDining is proud to have Karma Waters participating in the VegDining Card program, offering a 10% discount on food and beverages to VegDining Card holders. Learn more about Karma Waters through their Full Listing on our site.
Photos courtesy of Karma Waters.
Last updated: August 1, 2011.
---
Other VegDining Restaurant Profiles ...
Vegan Pudding (Vancouver, BC, Canada)
WaterCourse (Denver, CO, USA)
Karma Waters (Hoi An, Vietnam)
Padmanadi Vegetarian Restaurant (Jakarta and Edmonton, Canada)
The Vegetable Garden (Rockville, MD, USA)
Vegetarian House (San Jose, CA, USA)
Restaurant Bambu Vegetariano (Valparaiso, Chile)
Candle Cafe/Candle 79 (New York, USA)
Montali Country House (Umbria, Italy)
Sage's Cafe (Salt Lake City, USA)
Prana Vegetarian Restaurant (Boracay, Philippines)
Revive Vegetarian Cafe (Auckland, New Zealand)