Order VegDining Cards and
Support Kristin's Trip Across the U.S.
"Will Travel for Vegan Food"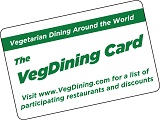 We're very pleased to be a major supporter of Kristin Lajeunesse's journey across the U.S. We've made a significant contribution to assist her in the acquisition of a van to enable her trip to go forward.

To help us with this contribution for Kristin, in turn we're now asking you to help us, by purchasing one or more VegDining Cards.

Our VegDining Card offers discounts at over a hundred vegetarian restaurants around the world. In addition, if you buy a VegDining Card, you'll receive monthly discounts from other veg businesses such as our friends at TheVegetarianSite.com. And if you're in the U.S., you'll be able to receive a free one-year subscription to the Vegetarian Journal from the Vegetarian Resource Group (VRG). You can find more information about our card here.

If you're subscribing to Kristin's e-newsletter, you can buy a card for $11.95 US, otherwise $15.95 US. Subscribing to Kristin's newsletter is free - just visit her page to do that.

Feel free to contact us if you have any questions about the VegDining Card. Thanks so much for your support !


Order 1 Card for $11.95 US:
(For subscribers to Kristin's e-newsletter)



Order 1 Card for $15.95 US:
(If you haven't yet subscribed to Kristin's e-n/l)



Order 2 Cards for $16.95 US:
(For subscribers to Kristin's e-newsletter)



SAVE - Order 10 Cards for $60 US:
VegDining Cards make great gifts!



View Shopping Cart: