Vegetarian Spotlight:
Worldwide Vegan Bake Sale

by Dennis Bayomi, VegDining.com


In this installment of VegDining's Vegetarian Spotlight, we're pleased to feature an interview we recently did with Gary Loewenthal, one of the founders and director of the Worldwide Vegan Bake Sale.



_______________



VegDining: Thanks Gary for taking the time to tell us a bit about the Worldwide Vegan Bake Sale. How did it get started and how did you get involved/why did you start it?

WVBS: In late 2008, three other people and I formed Compassion for Animals (CfA). Our original idea was to keep doing the types of vegan advocacy we were already doing - mostly leafletting and tabling - but as a registered charity, so we could legally ask for donations and get tax deductions. We had our first required meeting and decided "let's try some new stuff." One person suggested a vegan bake sale. I loved the idea.

I went online to research bake sales, and you know how your mind drifts ... I was (and still am always) looking for new and fun ways to do vegan outreach. I thought "what if ...", and after a brainstorming session with my CfA colleagues, the Worldwide Vegan Bake Sale (WVBS) concept was finalized.

I created a barely-sufficient website and started e-mailing invitations to groups around the world that I thought might be interested. We didn't know if anyone would sign up, since we and the event were unknown. But within three days the sign-ups started coming in. Over 80 groups participated the first year, and VegNews magazine named the WVBS the "Veg Event of the Year" for 2009.



_______________



VegDining: Participation has been quite amazing. Can you give us an idea of how it's grown since the first year, and how many groups/individuals are expected to take part this year?

WVBS: The number of participants and bake sales has grown each year. Though not by leaps and bounds, and this is why, I think:

- We found out that many groups like to do a vegan bake sale as a very occasional, or even one-time thing, because it's not their usual style. Which is fine. We want everyone to participate only if they want to; there's no pressure!

- Before too long, you start to hit the saturation point in terms of groups and individuals most likely to hold vegan bake sales, such as grassroots vegan outreach groups. To keep the number of participants growing, we need to attract groups and individuals that encompass a wider spectrum of society. And that's starting to happen, as companon animal rescues, Unitarian churches, and even a 4-H chapter - not to mention a variety of other participants - have joined in.

- Our budget is very small, so we can't afford magazine ads, postcard mailings, and so forth. We rely a lot on word of mouth, re-tweets, participating groups promoting their individual bake sales, and articles like this! Update: I just found out that we're going to have an ad in E/The Environmental Magazine - exciting! (But we're still very reliant on social media.)



_______________



VegDining: You must have heard many success stories resulting from the WVBS from all over the world. What would be a few that stand out?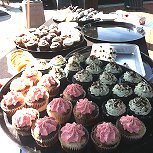 WVBS: There are too many to name but here are a few:

- Two years ago, VegWorcester participated with a combination bake sale and karaoke night. The bake sale was going fine until the city shut it down. The group complied, but subsequenty met with city officials and got the rules changed. Now bake sales are legal and require no fees or permits in Worcester!

- The entire country of Germany was a success story last year. There are a lot of vegan groups in Germany, and we tried to e-mail as many as possible with invitations, but the first three years of the WVBS we didn't get any sign-ups from Germany. Last year we got our first one, which was exciting, then another and another ... eventually there were 15 participating bake sales in Germany.

- Vegan cookbook authors such as Isa Chandra Moskowitz, Sarah Kramer, Jonie Marie Newman, and Carla Kelly, have actively participated in the WVBS. The latter two authors have mentioned the WVBS in cookbooks, and Ms. Kramer has participated the last four years.



_______________



VegDining: Where do you hope to see things go, say five years from now?

WVBS: That's a great question, in part because I get so busy worrying about year-to-year that I hardly ever look out that far. I think I have to answer from a few angles.

We (me, A Well-Fed World, which took over the WVBS when it got too big for Compassion for Animals, and the informal board of advisors, four intrepid activists who volunteer advice when I'm in a quandry) don't want to mess with success. So we're not inclined to make any major changes to the WVBS. Its simplicity and lack of hierarchy are part of its attraction, so we plan to keep a light touch, which gives the participating bake sales maximum autonomy.

Having said that, we do want to be flexible and responsive to demands and new ways that people use the WVBS. So, for example, we've added an online bake sale option, a WVBS brochure, and - thanks to some wonderful volunteers - translations of the invitation into several languages.

If at some point I feel that the WVBS has run its course, that interest is diminishing and the spark is gone, I'm prepared to retire it and go on to the next thing. But I don't see that on the horizon right now; the WVBS Is still growing and the participating bake sales are full of enthusiasm, energy, and creativity.



_______________



VegDining: Can groups/individuals still get involved and what should they do?

WVBS: There's plenty of time to get involved! If you want to host a bake sale, the number one task is to secure a location. Our bake sale tips page tells you how to find a suitable location, and has lots of other hints on how to create a low-stress, high-impact vegan bake sale. Once you're about 90 percent sure your bake sale is happening, let us know, via the "easy as pie" sign-up form so we can add you to the WVBS schedule, and you're on your way.

The best way, by far, to help the WVBS is by organizing a bake sale. But if that's not practical, you can also volunteer for a participating bake sale in your area, spread the word with social media, and - last but definitely not least - pick up some goods from the nearest participating bake sale, help out some talented, hard-working local bakers, and contribute to a worthy cause.

Fifth annual Worldwide Vegan Bake Sale -- April 20 - April 28, 2013!



_______________



VegDining: Thanks very much for chatting with us Gary! Good luck - once again the Worldwide Vegan Bake Sale takes place on April 20-28. For more information about the Worldwide Vegan Bake Sale, visit their website at VeganBakeSale.org.

Photos courtesy of Worldwide Vegan Bake Sale.