Vegetarian Spotlight:
Seth Tibbott, The Tofurky Company

by Dennis Bayomi, VegDining.com


In this installment of VegDining's Vegetarian Spotlight, we're delighted to feature an interview we recently did with the Founder and Chairman of one of the world's best known vegan food manufacturers, Seth Tibbott of Tofurky/Turtle Island Foods.



_______________



VegDining: Your life-journey from Chesapeake Bay to Hood River is an amazing one Seth, with "teaching", "tempeh" and "tree houses" all key "ingredients" in the making of Tofurky. Would you mind giving us a glimpse into that journey, touching on how those "ingredients" led to Tofurky as we know it today?

Seth Tibbott: Ingredient #1: Sense of humor. As a child I was lucky to grow up with a father who was a very creative man with a talent for drawing humorous penguin Christmas cards and posters. He taught me creative playfulness, especially with words.
Ingredient #2: Eating veg. In 1972, after reading Diet for a Small Planet by Francis Moore Lappe, the idea that feeding grains directly to people was so much more efficient than running those grains through animals drove me to give up meat eating. Later I would learn the health aspects and compassionate aspects of the diet, making this one of the best decisions of my life.
Ingredient #3: Authenticity. I knew very little about business when I invested my life savings of $2500 to start the Tofurky Company. But I had in mind an image of a businessman that was pretty serious and humorless. I have awkward photos of myself at trade shows wearing a suit and tie that just weren't me. After 15 years of living the dream but losing my shirt, the invention of Tofurky allowed me to be the more humorous, playful person my father taught me to be. Another great decision.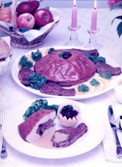 Ingredient #4: Hard work. I was lucky to start out poor and for the first 9 years in business I took home a total of $31,000. That's $290 per month. But I was doing all jobs and just kept showing up and trying new things. This was actually pretty fun and I think it is a real advantage having done all the jobs here from production to office manager, sales and marketing. It makes me appreciate the work others now do here.

Ingredient #5: Luck. The timing was good in 1995 to create a product like Tofurky. The Internet was just firing up and natural foods were booming. And marrying my smart and talented wife who had raised equally smart and talented Jaime Athos, the current president and CEO of the Tofurky Company makes me arguably one of the luckiest people on the planet.



_______________



VegDining: Today Tofurky's an international brand, certainly one that vegans in North America and abroad immediately recognize and admire. You and your company have come a long way, with over 30 different products, a brand new LEED-certified plant and B Corp certification. Seth, could you talk a bit about those milestone developments, what they mean to you personally and to your company?

Seth Tibbott: I never did. So much of the current progress of the company, including our new LEED certified plant and B Corp status are a result of Jaime putting his footprint on this company. It's so great to have a team to work with who understand the basic values the company was founded on and who are taking things to the next level in tangible and intangible ways. The idea is to create a seamless company making products that are good for the planet but also using sustainable production methods that are also good for the people who work here and live here. We have made many meaningful strides here but can do better.



_______________



VegDining: What are some of the life and business lessons you learned along the way to reach those milestones that might help budding vegan entrepreneurs?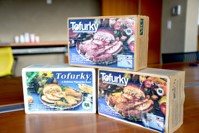 Seth Tibbott: 1. Perserverance furthers. I love watching young vegan entreprenuers make their initial steps into the business world. While it's great to see the companies that are getting big money investments starting out, it's the small, bootstrap ones that I most relate to. I think the best advice is just to keep turning the key every morning and learning more and more about the specific field you are in.
2. Be authentic. Don't try and be someone or something you aren't. Let the business be an authentic representation of who you are at heart.
3. Look for the unexplored niche and don't be afraid to take risks. In my case, there were plenty of people who thought that marketing a product with a name like Tofurky was a dumb idea. And many stores told me it was foolish to try and sell such a product. But as it turns out being first in this niche of vegan holiday roasts gave us an incredible advantage. Sometimes the ideas people think are good ones are ideas that someone else is also working on. And the ideas that people think are crazy are the ones with legs. "From the roots of esoterism, flowers banality".


_______________
VegDining: Looking forward, where do you see Tofurky heading, near- and long-term? And putting on both your activist and entrepreneur's hats, more generally Seth where do you see the vegetarian/vegan movement and markets heading?

Seth Tibbott: I see Tofurky continuing to search for unexplored territory in the vegan retail and foodservice landscape. We want to develop a full line of vegan products that help make people's transition from a meat-based diet to a plant-based diet, delicious, easy and enduring. It's amazing right now to have a front row seat as not just the USA but the world awakens to a new way of eating. A diet that is good for people, good for the planet and good for the millions of animals suffering so much under the weight of current industrial farming practices. I believe that plant-based foods are in their infancy now but are on track to be the new protein paradigm and that this will happen sooner than we can now imagine.



_______________



Thanks to Seth for taking the time to chat with us. For more information about Tofurky, visit their website at Tofurky.com.

Photos courtesy of Seth Tibbott.