Vegetarian Spotlight:
Our Renewable Nation

by Dennis Bayomi, VegDining.com


VegDining is proud to have been one of the sponsors of Our Renewable Nation, an eco-video project that recently returned from a cross-country tour. We had the opportunity to chat with Colin McCullough, the "driving" force behind the project, before they began their tour.



_______________



VegDining: Colin, thanks for taking a few minutes out of your very busy schedule to talk with us. Your upcoming trip sounds fascinating. For the benefit of our readers, could you give us a brief summary of your project - what are your objectives, and where are you headed?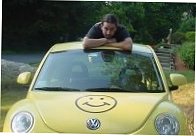 Colin McCullough: Sure Dennis – In May/June, our family of 4 will be crossing the U.S. in our vegetable-oil powered VW Beetle to film an eco-video series for kids about renewable energy and sustainable living. We're planning to distribute our video series free to schools nationally, with the mission of inspiring and empowering kids to create a renewable and sustainable future.

Our nationally award-winning eco-videos, starring our 9-year-old son Carrick, have been seen by over 200,000 people and our cross-country eco-video project is our attempt to bring the message of sustainability to a much larger audience. It's critical that kids see how exciting and full of opportunity a sustainable future can be, and they need to hear it from someone their own age!

We'll be starting in central Massachusetts where we live and will be taking the southern route out to California, then up to Seattle and back across the northern route. The journey should take about 2 months.



_______________



VegDining: What's especially captivating is the intended audience for your video project is school-aged children. What was the motivation behind this, and how do you plan to distribute your videos?
Colin McCullough: My son Carrick and I have been giving presentations in schools over the last year where we show some of our videos and talk about renewable energy and living a sustainable lifestyle. I've found that kids relate to Carrick in a completely different way than me; I think it has a bigger impact on kids to hear these things coming from another kid, someone their own age.

That's what is missing right now and it's so important, especially at this time in history, that kids understand the exciting choices that stand before them, and that soon they will be in the driver's seat making those changes happen.

Part of the motivation has also been being aware of these great projects all over the U.S. in renewable energy, sustainable design, transportation, waste-recycling, etc., and not really seeing these stories being told on a large-scale. Of course I hear about them because I'm interested and I'm getting 60 blog posts a day, but how do you get it out into the mainstream? Of course the future looks gloomy when people don't know what exciting opportunities and solutions exist out there.

We're planning to distribute our video series free to schools nationally by providing DVDs to environmental educator groups. We've been fortunate enough to get the support of state groups here in New England to distribute our videos, and with their help we should be able to go through the national environmental educator networks to distribute our videos on a much larger scale. All of our videos will be available to anyone online as well.

Instead of making a 2-hour documentary, we'll be making a series of 35 five-minute videos that talk about many various aspects of renewable energy and sustainable living. That way, teachers can pick and choose what they want to show depending on what they're teaching about, and kids can learn it in bite-sized pieces.



_______________



VegDining: Another wonderful aspect of your project is that it's very much a family undertaking. How did this come about, and how has the response been with family members? What are some of the challenges you anticipate once you hit the road?

Colin McCullough: Well, Carrick and I have been making eco-videos over the last 3 years and have been fortunate enough to win several national video contests with our videos. It's been a great experience and fun to see how the videos get around. As a vegan family we've been raising our kids in a natural lifestyle that works well for us.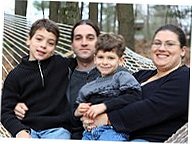 The kids are excited to see a lot of new places around the country because they haven't been too far out of New England yet. My wife Jen is the practical one so she's been making sure the issues like having enough storage room (cargo carrier on the roof) and places to stay on our journey are taken care of.

I think one of the challenges will be to compress everything into a 2-month trip, as we have many places to visit and interviews to film. I wish we could take 6 months so that we could take several days to visit each place and get to take in more of what makes each town or city unique.

Fortunately finding vegan and vegetarian food won't be one of our challenges. Using VegDining will be a big help for us to find healthy places to eat along our journey. Some of the stops will be easy, like San Francisco, but traveling through the mid-west and some stretches down south would be tough to find good veg food without some online help.



_______________



VegDining: We're delighted to be on-board as a sponsor and as your project's "official guide to vegetarian restaurants". How else can our readers support your project?

Colin McCullough: Our cross-country eco-video project has been a huge undertaking, and certainly isn't possible without the support of many people along the way. One thing that would be a big help is a donation to support our project. You can send us a donation through our website, and we have a few great options for people who are willing to support us.

For a $25 donation to support our project, we have a Postcard Program for kids where we'll send 5 postcards from our travels to a child of your choice. Kids love to get mail, and this is a great way for them to be a part of our cross-country eco-video journey. Plus a little bit of geography thrown in there too!

For a $50 donation, thanks to your support, we're giving out free VegDining Cards. With a VegDining Card people get discounts at vegetarian restaurants across the U.S. – for people doing a lot of traveling like us that will save a bundle!

Of course, those are only suggestions for donations – any amount that people are willing to donate to support our eco-video project is a big help. I thought about putting the project on hold last fall when the economy started to take a sharp downturn, but I really felt like what we are working on is too important. This will be the only eco-video series for kids starring another kid, and one way or another we have to make it happen.

One more thing I'd like to add is to encourage anyone interested in our project to sign up for our email update list. We're sending out weekly updates as we add new destinations and make headlines! Once we leave on our cross-country journey in the beginning of May, we'll be sending out daily email updates so that people can follow our progress as we travel. Once we return we'll be uploading each new video as we complete them and the email update list will be the first to know of our newest videos. People can go to our website and click the button on our homepage to sign up for our email update list.



_______________



For more information about Our Renewable Nation, visit their website at OurRenewableNation.org.

Photos courtesy of Our Renewable Nation.