by Michael Marinelli
Special to VegDining.com
The vegetarian experience in New York City is as varied as the city itself. Vegetarian types have become a representation of the city's population as a whole - a true melting pot. With new restaurants and health food stores sprouting up all over the city, a lot of people seem to be jumping on the vegetarian bandwagon. The recent explosion of interest has encouraged the flourish of non-traditional vegetarian restaurants.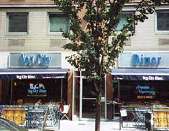 In fact, the recent opening of Veg-City Diner, complete with its counter, vinyl booths and rotating pastries, is a perfect example of how the vegetarian dining experience has evolved. It can no longer be considered the antithesis of American cuisine. Health food stores have also begun catering to the consumer's needs, evidenced by the frequent introduction of new products and the sale of ready to eat meals.
There is certainly no shortage of choices when venturing out for a meal in New York City. Beyond the over 100 vegan / vegetarian / vegetarian friendly restaurants in New York City, many others also provide viable vegetarian selections.
Indian places generally have many vegan choices, just be sure to ask that they cook with oil and not ghee(clarified butter). Besides homemade pasta (which is generally made with eggs), and cooking with butter versus oil, Italian restaurants can provide hearty meals for vegans-mangia!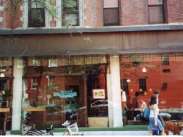 Unfortunately, traditional Mexican food is prepared with lard, cheese and meat stock. Thankfully, for those of us with bean burrito obsessions, New York City has many non-traditional healthy Mexican restaurants that don't use lard and even offer whole wheat tortillas, soy cheese (most soy cheeses include casein, a dairy derivative), tempeh bacon and tofu sour cream.
Since the mid-90s, sushi at Japanese establishments has become the standard for the New York City chic. If you're vegan, you can still don your black on black on black outfit and join the elite for some saki and handrolls-ask that no fish products be used in the preparation of the veggie sushi or the soy sauce.
The following are a few vegetarian favorites to get you started; this is by no means a complete list:
For those interested in the mind, body, spirit connection, Angelica's Kitchen provides a scrumptous menu of macrobiotic foods, but don't bring your cell phone!
Along with the aforementioned Veg-City Diner, Kate's Corner (formerly Kate's Joint) can satisfy those fried food cravings. Order the Unbuffalo wings and the Unturkey club. Kate's will leave you wanting more and salivating before your next visit. The eclectic crowd, staff and music will keep you coming back.
Vegetarian Paradise 2 or VP2 offers some of the best Chinese food in the city. The menu is enormous, the staff friendly and they cater to all dietary needs, oh I almost forgot the food is outstanding!
The Organic Kitchen, which just opened in the past year, cooks up healthy homestyle food with excellent homemade desserts in a cozy east village atmosphere.
The Whole Earth Bakery and Kitchen is truly unique; it is the only all vegan bakery in the city. They also have limited, but delicious take out meals.
The Sanctuary, which is run by the International Society of Krishna Consciousness, insures a surrounding where serenity and non-violence infiltrate all aspects of the dining experience.
As far as health food stores go, Healthy Pleasures is the biggest and best in the city. I like to say it is the food store of the future.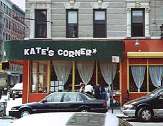 A more comprehensive review of the New York City dining options can be found in the New York section of VegDining.com.
Some handy guides for the traveler, besides of course VegDining.com, are The Vegan Guide to New York City, which can be purchased at the Union Square Farmer's market and New York Naturally, which is available for free at most health food stores and selected restaurants.
Good luck and enjoy all the diversity that New York City has to offer!