To celebrate our ongoing support for the Vegetarian Resource Group, VegDining is pleased to offer VRG subscribers our VegDining Card at half the regular price ($6.95 US instead of $14.95 US) until March 31, 2006.

And even better, until the end of March, VRG subscribers can buy two cards for only $10.95 US !

The VegDining Card provides a 10% discount on vegetarian food and non-alcoholic beverage purchases at over 100 vegetarian restaurants around the world.


PLUS A SPECIAL DRAW ...

In addition, until the end of March, VRG subscribers submitting mini-reviews about their recent visits to vegetarian restaurants will be entered into a draw.

Prizes will include restaurant dinners, subscriptions to "Vegetarian Journal," and more! Submit as many reviews as you like, one per restaurant per reviewer. No purchase necessary.

When ordering or submitting a review, be sure to include the text "VRG Subscriber" anywhere in your submission.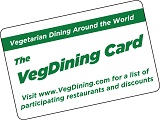 Click for more information
Buy One Card $6.95 US
Offer until March 31, 2006
Buy Two Cards $10.95 US
Offer until March 31, 2006
View Shopping Cart / Checkout
Submit a Review