The VegDining Card ...
Your International Dining Card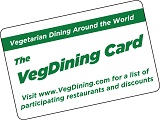 What better way to dine out than with a VegDining Card ! Easy to order, very affordable and useful for the entire year.
Only $15.95 US, or just $11.95 US for members of listed vegetarian groups.

The VegDining Card offers discounts at vegetarian restaurants around the world, including restaurants in Europe, South America, Africa, Australia, Asia and throughout North America with more joining every week.

As well, from time-to-time restaurants and other vegetarian-friendly businesses offer limited-time specials for VegDining Card holders. And purchasers receive a 25% discount on Classified Ads on our site.

Purchasers of VegDining Cards also receive a free login account on our site, for the duration of their cards, giving access to many of our additional enhancements and features.

Plus you'll receive VegDining Rewards Program points for your purchase and be eligible to earn points for writing feature articles, submitting mini-reviews, inviting your friends to purchase cards and more!

For more information about the VegDining Card, feel free to contact us.