Special Offer
for VegDining Card Holders
for September 2013



We're very pleased to offer the following monthly special for VegDining Card holders ...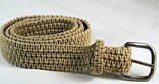 HEMPMANIA HEMP MACRAME BELT

Save 30% on the Hempmania Hemp Macrame Belt from TheVegetarianSite.
Special: $18.55 US
Regular price: $26.50 US
And earn 20 VegDining Rewards Program points for your purchase!
Offer good until September 30, 2013.


If you have a VegDining Card, please login here, and revisit this page to place your order.
Otherwise ...
Click here to learn more about - and order - your VegDining Card.

Stay tuned for more VegDining Card specials in the weeks ahead !

Your friends at VegDining.com and TheVegetarianSite.com.