Special Offer
for VegDining Card Holders
for October & November 2012



We're very pleased to offer the following monthly special for VegDining Card holders ...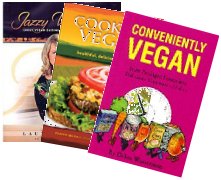 Vegetarian Cookbooks

Save 40% on your choice of three terrific vegetarian books from TheVegetarianSite.com.
Conveniently Vegan
by Debra Wasserman
Special: $9.00 US
Regular price: $15.00 US
Cooking Vegan
by Vesanto Melina and Joseph Forest
Special: $11.97 US Regular price: $19.95 US
Jazzy Vegetarian
by Laura Theodore
Special: $14.97 US Regular price: $24.95 US



Also earn 10 VegDining Rewards Program points on each book purchased!
Offer good until November 30, 2012.


If you have a VegDining Card, please login here, and revisit this page to place your order.
Otherwise ...
Click here to learn more about - and order - your VegDining Card.

Stay tuned for more VegDining Card specials in the weeks ahead !

Your friends at VegDining.com and TheVegetarianSite.com.